The Latest Carpet Cleaning Equipment
The Best Training
The Right Carpet & Rug Cleaning Knowledge
Years Of Experience delivering top quality carpet cleaning services to Port Augusta, Port Pirie, Whyalla & Adelaide.
And that's what we do here at Adelaide Fibredry – with Stewart and our team of highly trained carpet cleaners providing beautifully clean carpets and rugs in Whyalla to Adelaide, the right advice and knockout service.
But don't just take our word for it – check out the testimonials here (we have loads of them!)
Here's The Great Value!
Standard
Deluxe
Premium
Pre-inspection of selected areas
✔
✔
✔
Move and Replace furniture items
✔
✔
Pre treatment of individual stains
✔
✔
Pre-vacuuming with industrial strength filtration
✔
✔
✔
"Hot" citrus scented pre-spray applied
✔
✔
Carpet agitated with a Rotary scrubber
✔
✔
✔
Powerful truck mounted steam cleaner
✔
✔
Conditioning and rinsing agents of fibres
✔
✔
Treated with encapsulation polymer products (sustainable cleaning technology)
✔
Protective plastic tabs placed underneath furniture
✔
✔
Mild scented deodoriser applied
✔
✔
✔
Guardian Stain Protection
✔
500 ml "Fibre Spot" stain remover (value $23.00)
✔
Final grooming of carpet fibres
✔
✔
✔
Speed Drying of carpets with air movers
✔
✔
Compliance beyond Australian Standards
✔
✔
Prices – based on a standard room size (13m²)
2 Rooms
from $85
from $99
from $130
3 Rooms
from $110
from $125
from $160
4 Rooms
from $125
from $160
from $190
Adelaide Fibredry are currently offering a number of rug cleaning and carpet cleaning packages to suit your individual needs and differing budgets. We can cater for all commercial carpet cleaning and residential situations and can assure you our quality carpet cleaners here in Whyalla and Adelaide get the job done beautifully.
Our Amazing Prochem Machine
Don't compromise….. At Adelaide Fibredry we utilize Prochem's Finest Carpet Cleaning Truckmount,  – the Everest 650 HP.
This remarkable carpet cleaner machine has been engineered to satisfy the needs of even the most discriminating customer and allows our technicians to achieve exceptional results time after time in all types of situations.  One of the best pieces of steam carpet cleaning equipment on the commercial market.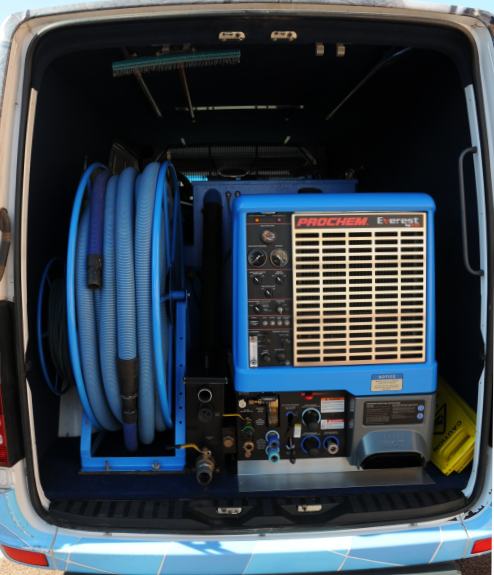 The Equation
Maximum Heat plus Maximum Vacuum = Exceptional Carpet Cleaning In Whyalla to Adelaide!

Accredited Guardian Carpet Protection Agents
Adelaide Fibredry Technicians are trained applicators of this carpet protection product and recommend its use.
Guardian Carpet Protector is the preferred protection product applied to furniture distributed by many of Australia's top furniture manufacturers.
It delivers its protection by forming a molecular shield around each carpet / upholstery fibre. The shield lowers the surface energy of the fibres causing them to repel liquid spills and dust and dirt.
Carpets and Upholstery will look newer and stay cleaner longer making stains easier to remove.
The application of this product helps prevent dirt and stains from being ground into or absorbed by the fibres.
Free Bottle Included!
Bottle of Fibre Spot stain removal with every application. Value $23.00
Call Now For A Free Quote
Call us NOW on 8644 3149 (Adelaide & Whyalla) or 0411 557 501 (Mobile) for a free quote or use the Contact form and we'll get right back to you.
Contact Us
Carpet Care Tips
The most crucial stage of proper carpet maintenance is vacuuming!
Regular vacuuming with an industrial strength vacuum at least once a week is highly recommended to prevent undue pile degradation. This ensures you will avoid the "sand paper" effect by preventing dirt and unwanted grit becoming deeply embedded in the carpet fibres.
How often should I clean my carpets?
To protect your investment and your health, Adelaide Fibredry recommends professional carpet cleaning every twelve months from installation.
Floor coverings are an important part of your home and need the same care you would afford an expensive motor vehicle.
Treated with care your carpets will exceed your own expectations.
Correct cleaning and maintenance will significantly increase the life of your carpets saving you money in the long run.
Clean them once a year even if they don't look dirty. It's the soil and hidden bacteria lurking beneath the pile that can cause serious damage to your carpets and more importantly, your personal health.
Pricing
We base our pricing around the standard room size of 13 m2.
Each job is quoted depending on what process is required and on individual circumstances.
This ensures we can continually offer sensational value for money and remain ahead of competitors. Call us now for a free no obligation and no pressure quote from Whyalla to Adelaide and beyond!
For more information about carpet cleaning and choosing the right carpet cleaner, visit The Free Carpet Cleaning Consumer Guide.