Adelaide Fibredry's grout colour sealing service helps you protect your newly installed grouted tiles with additional protection. After your tile & grout installation has been cleaned. One can apply a deep penetrating grout colour seal over the grout. The colour sealing provides protection for your grout. Your grouts colouring scheme will look uniform and protect the grout from staining. This is the last step in the grout sealing process and is usually done by hand.
Benefits of Adelaide Fibredry Grout Cleaning Service
Grout sealing offers many benefits including:
Prevents Mould & Mildew Growth
Grout is a porous substance, if they are not properly sealed, it can cause mould and mildew to grow due to water ingress.
Keeps Your Grout Looking Clean
Grout sealing acts as a barrier by preventing dirt and bacteria to build up over the grout.
Increases the lifespan of Grout
Grout can crack and chip, a sealant can help it last longer due to its water resistance & durability properties.
It Makes Grout Cleaning Easier
Grout that is sealed is easy to clean. Sealants make the surface easier to clean as they provide solid protection from dirt and grime.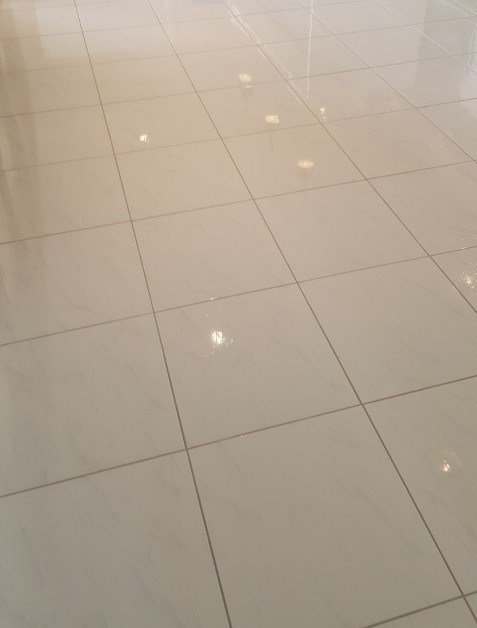 Types of Grout Sealers
Application Type Sealer
An application type grout sealer is available in spray on formulas, ready to apply tubes, and large gallon size containers. These sealers provide a consistent layer of sealants on any grout surface.
Solvent Based Sealer
Solvent based grout sealers provide deep protection for your grout. It is the best bet to fill spaces and protect your grout from deep within.
Treatable Surface Sealer
These types of sealers are non-corrosive in nature, and are used to seal grouted tiles used for food preparation. They are ideal for kitchen counters or on a bar top. You must look out for a treatable sealer that is labelled, safe for contact with food.
Professional Grout Colour Sealing Services to Keep the Haze Away.
We offer tile sealing services for natural stone and grout as well as stripping off coatings, waxes and other types of sealers on natural stone, polished porcelain and ceramic tiles and other hard surfaces as well as grout haze removal. Grout Repairs and Silicon replacement.
Do you have mouldy or damaged grout and silicon that needs replacing in your shower walls and floors? We can remove all that for you and replace with brand new materials.
We use professional grout removal tools and we do not skim coat (new grout over existing grout) – that only lasts a few months. We carry a large variety of grout colours to match your existing grout. For silicon we carry 6 different colours, and we use guaranteed 100% silicon.
Quality Grout Colour Sealing Services in Adelaide,SA
Do you need professional help for all grout colour sealing services in Adelaide? Then please give us a call on 0411 557 501, and email us at afibrdry@iprimus.com.au if you are in Adelaide, SA. For getting in touch with the Eyre Peninsula, SA you can call on 0407 531 262 or email us at info@eyrefibredry.com.au to get immediate assistance. Besides, you can fill out our contact form on our website to get your entire grout colour sealing needs in Adelaide, addressed immediately.
Servicing Areas in Adelaide, SA
Get a Free Quote
Call our friendly team on 0411 557 501
Prefer to email us?
Send us a message and we will get back to you.