Adelaide Fibredry is your preferred tile & grout cleaning service provider in Golden Grove Adelaide, SA. We work on projects for both residential and commercial properties in Sealing & Polishing Vinyl Floors in Golden Grove, Adelaide also. Most homes today have their homes furnished with tiles. These tiles can be ceramic, porcelain, marble or vinyl floors. Modern tiling solutions do not require cleaning services if they are tiled and grouted by a professional tiling company.
The many advantages of properly tiled & grout installations include:
Requires very low maintenance, you just need a tile & grout cleaner to keep tile clean.
Cost Effective & Durable, Tiles are hard and durable surfaces that cost lesser than hardwood & carpets.
Easy to Repair, A broken tile is easier to replace than a hardwood plank.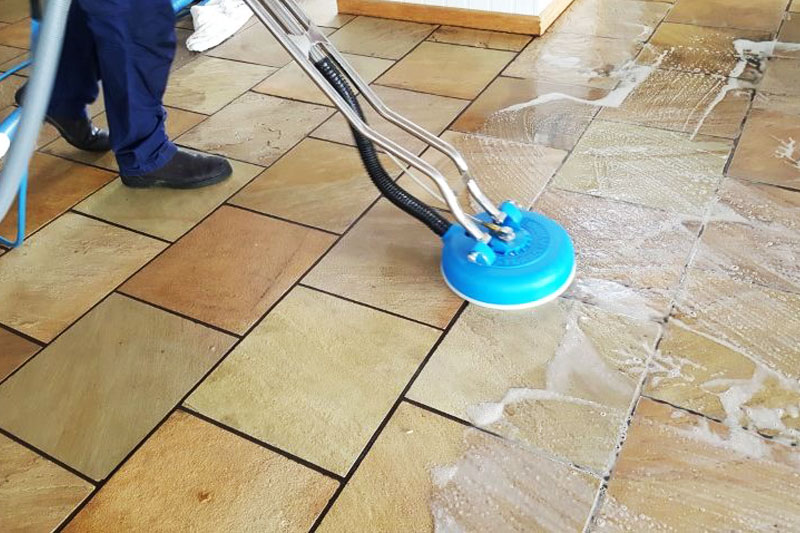 Some Common Tile Floors, We Specialise in Golden Grove, Adelaide
Here are some of the common floors we work on for all grouting, polishing & sealing needs.
1. Ceramic Floors are the most popular in the market right now. These tiles are made with sand, natural products, and clays. They are moulded into shape and fired in a furnace. Ceramic tiles offer many benefits like durability, resistance to wear and tear colour permanence, and hygiene.
2. Porcelain Floors have a smooth, pore less surface ideal for blocking out moisture. Though they may look like ceramic tiles. Porcelain tiles offer superior protection against moisture and humidity. They offer better waterproof qualities and are stronger than ceramics.
3. Mosaics Floors are small pieces of tile held together on a plane surface. They add alluring, intricate designs to any room. They use diverse materials like marble, pebbles, glass, and metal. Mosaics give your surface a unique look and feel.
4. Marble Floors are quarried natural stones, cut into tiles to embellish living spaces. They add elegant beauty and natural sparkle to your interiors. They are magnificent to look, versatile, unique, and durable.
5. Vinyl Floors – Vinyl is a new type of flooring made using synthetic materials like fiberglass, PVC Vinyl, and a plastic agent. Vinyl floors are durable since they are composed of multiple layers. It is increasingly popular for its durability, water resistance, stain resistant, eco friendly and costs less in comparison to ceramic or porcelain floors. Vinyl floors are easy to install and are available in a diverse range of colours & surface designs.
Tile and Grout Cleaning Services in Golden Grove
Problems start to emerge if your tile and grout become unsealed due to improper maintenance, wear and tear or if the tiling job isn't done well. Adelaide Fibredry can help clean & restore broken or unsealed tile with grout installation using a variety of tools and techniques.
More about Tile Grout Cleaning in Golden Grove
Grout is used as filler for the joints between tiles that are newly installed. Grout is a powdered mixture of cement, lime, colour pigment and sand that hardens when mixed with water and left to cure.
The many benefits of using grouts while tiling your floor are
Grout gives your floor or wall a crispy & furnished appearance.
Grout prevents dirt and debris to get in between or under a tile installation.
Grout provides strength and rigidity to a tile installation.
Types of Grout You Need to Know
Sanded Grouts: Are made out of cement and grit, and are used for larger joints. It's the preferred choice for floors that endure high footfall. It's used to cover gaps that are more than ⅛ inch wide and up to ⅝ inch or 1 inch.
Unsanded Grouts: It is made with cement, but it does not contain grit. Tilers used them for narrow joints that are ⅛ inch wide. Unsanded grout is thicker and lot smoother than sanded grout.
Epoxy Grout: This type of grout help hold back water ingress much better. Epoxy grout will absorb 50 times lesser than cement grout and are much stronger. They are used in grouting kitchen backsplashes and for the bathroom shower floor.
Final Tile & Grout Inspection after Cleaning by Adelaide Fibredry in Golden Grove
Tile & Grout Cleaning isn't keeping tile floors clean. Sometimes your tiles & grout need minor repairs to fix issues caused by wear and tear. Adelaide Fibredry's cleaners will perform the following checks before the sign-off from the customer.
Checking for Tile Hollowness
Tile cleaning is about keeping the tile floors clean. A poorly installed tile will leave tiles hollow.
Our personnel will randomly tap suspected tiles using a tile hollow checker for hollowness. Faulty tiles are repaired only with consent from the customer.
Check for Inconsistent Grouting
We will check all tile joints the grout has covered tile gaps. If these gaps are left unattended, it creates a path for water to seep through.
Inspecting Cut Tile around Fixtures
Tiles around plumbing fixtures & electrical faceplates need covering with fillers. These covered gaps are waterproof to avoid water ingress.
Fix Damages, Chip Offs & Shade Variations
Damaged tiles that are cracked or broken will need fixing. These damages are fixed only with permission from the customer.
Grout Colour Sealing in Golden Grove, Adelaide
After your tile & grout has been cleaned. One can apply a deep penetrating grout colour seal over the grout. The colour sealing provides protection for your grout. Your grouts colouring scheme will look uniform and protect the grout from staining. This is the last step in the grouting process usually done by hand.
Sealing and Polishing Vinyl Floors in Golden Grove, Adelaide
Types of Vinyl Floors
Vinyl flooring is durable, stylish and versatile. In addition, they are suitable for flooring your bathroom, kitchen, and your living rooms. They are available in two different forms namely:
Vinyl Floors – Are designed to imitate natural floors like hard wood or ceramic tiles. Their modular form makes them easy to install like traditional ceramic or porcelain tiles.
Vinyl Rolls – These are fiberglass cushioned that are available in large continuous sheets. These flexible sheets can form timeless contemporary designs at affordable rates.
Vinyl floors are scratch and stain resistant but they too have their limitations when it comes to cleaning & sealing vinyl floors. It is advisable not to clean vinyl floors with acetone, wax, varnish, abrasive powders and steam cleaners.
Step By Step Guide to Polishing Vinyl Floors
Polishing Vinyl floors would require baking soda, apple cider vinegar, mineral oil, WD-40 lubricant, clean water, a clean cloth, soft bristled brush and dishwashing soap. Polishing your vinyl floors is a seven step process:
Step 1: Choose the right polishing solution
The key is to use the gentle cleaning solution to clean and polish vinyl floors. A gentle cleaning solution with a ph value between 5 and 6 is apt. Adelaide Fibredry's cleaning experts will recommend the solution that would best suit your vinyl floor.
Step 2: Remove the old finish
If wax or a commercial finish is applied, it is advisable to strip it out before polishing the floors.
Vacuum or dry mop to get rid of surface dirt and debris.
Using a liquid stripper can get rid of the wax or finish that was applied previously.
Use the dry cotton mop to spread the stripping solution across the floor.
Use a rotary scrubber to remove stains and clean up the sludge with a damp mop.
Rinse the floor and allow some time for the floor to get dry.
Step 3: Clean the Vinyl floor
Cover up the scratches using a lubricant like WD-40 Make scratches on your vinyl floor less visible by rubbing a lubricant such as WD-40 on the area.
Pidilite WD-40 is a multipurpose spray that protects surfaces from rust, corrosion. It acts as a good lubricate to remove grease and grime from most surfaces.
Remove lubrication residue by mopping the area with a solution of cider vinegar and water.
Step 4: Preparing the polishing solution
Your clean floor is now ready for the most important step in the polishing process. You can find some really good commercial vinyl polishing products in the market that you can use. Adelaide Fibredry's professionals will recommend the correct polishing solution to use for your vinyl floor.
Step 5: Buffing the Vinyl Floors
Buffing is spraying the floor with a polishing solution and buffing the floor with a rotary floor machine. The latest rotary cleaning machines have the ability of spraying the polishing solution as well as buff the floor.
Step 6: Shine & Polish the Vinyl Floor With Baking Soda & Vinegar
Baking powder solution is an effective powder solution for polishing vinyl floors. White vinegar is another common solution to use. It is an excellent floor cleaner, deodorizer, and sanitizer. It will help you strip of the grime leaving your floor shiny and clean.
Step 7: Household Alcohol to shine up the Vinyl Floor.
Alcohol is an effective solution that helps cut through grime and lift stubborn stains. It will leave the floor spic and span
Applying alcohol cuts through the grime and lifts stubborn stains, leaving your floors shining and radiant.
Step By Step Guide to Sealing Vinyl Floors
Vinyl Floors are designed to simply fit together with an adhesive. However, sealed vinyl floors last longer. Applying a sealant not only saves you money but helps make your floor surface tougher to last longer. Besides they are easy to clean and make them resistant to wear and tear. Here is the 4 step process for sealing vinyl floors.
Step 1: Clean the Vinyl Floor to Prepare for Sealing
It is vital that the floor is completely clean and free from dust and dirt to start the sealing process. This task is as simple as sweeping the floor with a soft bristly broom, cleaning with a microfibre cloth and vacuum cleaning to clean the seams. This ensures that there is no dirt or debris left in the seams between the tiles.
Step 2: Remove existing polish or wax from the surface
You need to remove any wax or polish remaining on the vinyl floor surface. A vinyl floor stripper is an ideal solution to get this part of the process done effectively. You will need to repeat the cleaning with a floor stripper if the wax is or polish is thick.
Step 3: Applying the Sealant
This is the most important part of the sealing process. Apply the vinyl sealer evenly over the surface floor. This step has to be slow, careful and methodical. If you do it too fast you risk of creating bubbles in the sealant. The sealed floor is left to dry for 10 hours, or as recommended in the instructions given in the sealant product manual that you are using.
Step 4: Clean Thoroughly & Reapply a Second Coat
When the sealant is dry, you can wipe the floor again with a microfibre cloth. Reapplying a second coat is advisable to ensure the sealing is complete. You might need to reapply 3-4 times if needed.
Professional Tile & Grout Cleaning Services by Adelaide Fibredry
Adelaide Fibredry has equipped its tile & grout cleaners & vinyl floor sealers with the best training and the latest cleaning equipment to service the most soiled and dirty tiles & floors. Our cleaner/sealer is instructed to be professional & polite in their communication. They will be at your service on short notice to give your vinyl floors the refurbishment it urgently needs.
Please give us a call on 0411 557 501, and email us at afibrdry@iprimus.com.au if you are in Adelaide, SA. For getting in touch with us in Eyre, SA you can call on 0407 531 262 or email us at info@eyrefibredry.com.au to get immediate assistance. Besides, you can fill out our contact form on our website to get all your tile & grout cleaning or sealing & polishing vinyl floors in Golden Grove on a priority basis.