Adelaide Fibredry is your professional cleaning company for all your industrial, residential & domestic window cleaning needs in St Peters, Adelaide, Australia. Adelaide Fibredry is your best window cleaning services company in St Peters. Our expertise comes from handling both residential window cleaning and commercial window cleaning works in St Peters. We treat small house window cleaning just like we would give importance to a large professional window cleaning project.
It takes skill, with professional tools to complete a professional window cleaning job. Cleaning high rise buildings require hydraulic lift buckets and ropes to rappel down a building. Adelaide Fibredry has perfected the simple yet difficult job of servicing window panes for both residential and business properties.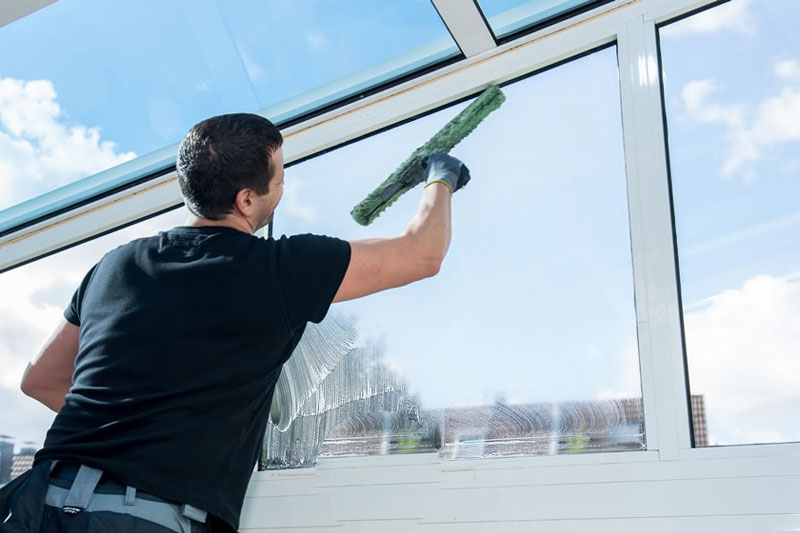 Benefits of Keeping Your Commercial Windows Cleaned Regularly
The benefits of regular commercial window cleaning are many.
It helps improve a building's appearance both from the inside and the outside.
It helps regulate the temperature within a building, allowing the sun to warm a building during winter and regulating the sunlight so that the interiors are ambient and cozy in the summers.
It helps improve boost employee morale, as a clean & beautiful exterior is motivation to give your best.
Adelaide Fibredry Approach to Commercial Windows Clean Services in St Peters, SA
Adelaide Fibredry window cleaning personnel have the skill and expertise to undertake any commercial window cleaning project. They are up to any high rise window cleaning challenge, whether it is rappelling down a building with ropes or mounting on a hydraulic lift to get the job done.
Here are the simple steps needed to get any commercial window cleaning job done effectively.
Start by dusting to remove cobwebs and loose dirt that's built up on a window's glass.
Wet the windows with water and a commercial cleaning solution with a spray bottle or water fed pole system.
Squeegee the window with long overlapping stokes, to clean the window surface without leaving scratches and cracks while cleaning.
Squeegees are common cleaning tools that come with a rubber blade and a handle.
A natural sponge is used to wipe the squeegee's rubber blade after each stroke.
Use a chamois cloth to clean the window's edges to remove water caught under a window's rubber gasket.
Tools Adelaide Fibredry Use for Every Commercial Window Cleaning Job in St Peters
Here are some window cleaning tools & gear Adelaide Fibredry provides while window cleaning commercial and residential high rises in St Peters.
Squeegees
A squeegee is a common cleaning tool with a rubber blade and a handle. Cleaners use it to wipe away moisture from glass. They come in different sizes for both large and small windows.
Scrubbers
Scrubbers are fabric cylinders that can fit over a squeegee. It is used to spread water and cleaning solutions over glass. Microfibre scrubbers are used to clean the tough dirt and grime from window exteriors.
Towels & Sponges
Towels and sponges are handy for removing window and cleaning solutions that gather near the edge of window panes that squeegees cannot get rid of.
Holsters & Belts
Holsters and belts help cleaners to carry cleaning tools around their waist. Holsters help cleaners to be organized before undertaking a long and strenuous window cleaning job on a high rise building.
Safety Goggles & Glasses
Safety goggles help cleaners to safeguard their eyes from the elements like wind and sunlight. It helps them protect from any debris or cleaning solutions that might accidently come in contact with the eyes.
Ropes & Harnesses
Ropes and harnesses are needed to reach window panes that are difficult to reach. The implements are always strong and reliable to keep our cleaner safe.
Seat boards
Seat boards are alternatives to lifts during high rise cleaning. Instead of using a harness, a seat board provides a sturdy seat that they can rely while cleaning high rise window.
Safety Tools
Cleaners use safety tools like descenders, ascenders, rope grabs, suction cups and helmets when on the job. Cleaner can also put out safety tapes and sign boards to inform passersby that there are men at work.
Your Best Professional Window Cleaning Services Company in St Peters, Adelaide, SA
Do you have domestic window cleaning or a commercial window cleaning job in St Peters that needs immediate attention? Please call us on 0411 557 501, email us at afibrdry@iprimus.com.au, or send us an enquiry by logging your requirement on our website. Our customer service team in St Peters would be help you work out a window cleaning plan on priority basis.