Adelaide Fibredry is a company best suited for all high pressure cleaning & hard surface cleaning needs in St Peters, Adelaide, SA. We specialize in cleaning your residential driveway and paver. Besides, provides commercial high pressure and hard surface cleaning services.
High Pressure Cleaning Services in St Peters, Adelaide
High pressure cleaning is a method by which water at high pressure between 5000 to 10000 psi is applied to clean dirty and stubborn surfaces. They are used to remove grime, loose paint, mud, mould, and graffiti from hard and stubborn surfaces. Water under high pressure can be used to washing surfaces like driveways, pavers, water tanks, vehicles, streets and bridges. It is also referred to as a "universal solvent", because it can dissolve more substances than any other liquid. Water pressure enhances water's ability to weaken the bonds of dirt with a surface to help wash away dirt and grime faster.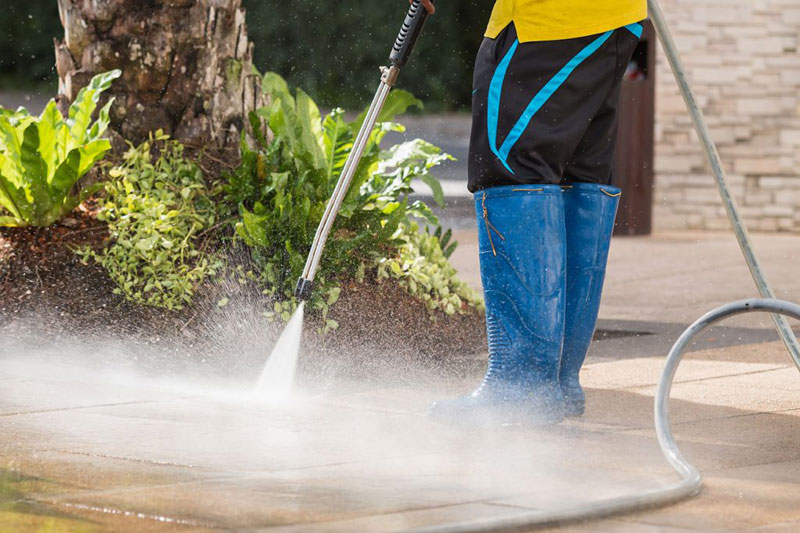 Understanding PSI & Pascal
Water pressure is measured as PSI and Pascals and you need to know the difference between the two.
Pounds per square inch (PSI): is an imperial unit of pressure. It is a measure of force water applies per one square inch. Thus 1 PSI is one pound of force applied to one square inch area. Pascal is a metric unit to measure pressure.
Pascal (Pa): It is the amount of force water applies to one square meter. Therefore 1 Pascal is one kilogram of force applied to one square metre area. Thus 1 PSI equals is around 6895 Pascals.
Hard Surface Cleaning in St Peters, Adelaide
Hard surface cleaning for homes involves cleaning diverse surfaces like floor care, glass cleaning, kitchen cleaning, drain cleaning, household appliance care and furniture care, besides the paving and driveway. Hard surfaces for commercial spaces differ significantly in composition, hardness and resistance to acid.
Regular hard surface cleaning demonstrates your business' intent for quality and attention to detail. Adelaide Fibredry's professional services work to maintain the lustre and durability of hard-surface floors, grout, countertops, desktops and backsplashes. We are proficient in cleaning diverse floors like marble, mosaic, terrazo, granite, ceramic, porcelain or vinyl floors. Our cleaners are trained to safely clean these surface types leaving them clean, sanitized and spotless.
Adelaide Fibredry's simple hard surface cleaning involves 7 simple steps
Inspection and testing for dirt and stains on the walls and flooring.
Thoroughly vacuuming, hard surfaces, by adequately covering up furniture with protective sheets.
Applying cleaning solutions that are suitable for the surface that is being cleaned.
Hot water rinsing to extract dirt and grime if needed.
Hand scrubbing to remove stubborn stains and colours.
Sealing & protecting tile and grout lines for a well refurbished floor.
Performing final inspection before the client hand over.
Common High Pressure Cleaning Equipment Used By Adelaide Fibredry in St Peters
High-pressure water cleaning is a system that includes a motor, pressure pump, hoses, pipes, nozzles, controls and various accessories to create the necessary water volume and velocity. High pressure water cleaning systems are composed of a powerful motor, pressure pump, hoses, pipes, controls and nozzles.
The type of nozzle or spray tip determines the amount of pressure one can generate to clean the most difficult dirty and stained surfaces. Black nozzles are the most commonly used. They can cover an area of up to 65° in range. But, red nozzles on the other hand are dangerous as their coverage is 0°, besides 15° is for stripping hard surfaces.
There are two main types of pressure cleaning cleaners used these are
Cold Water Pressure Cleaners
Cold water pressure cleaners are the most common. They are usually gasoline or electric engine powered. These cleaners are suitable for damage sensitive surfaces such as windows, vehicles or painted surfaces. They are low capacity equipment suitable for small cleaning jobs like cleaning your homes driveway or paving. The pressure they generate can be controlled by the type of nozzle used while washing.
Hot Water Pressure Cleaners
Hot water pressure cleaners offer the added advantage of using hot water for all cleaning and washing purposes. The water used is heated between 60°C to 155 °C for an effective cleaning. Besides, adding a detergent solution hastens the cleaning process.
Hot water offers many advantages includes
Hot water is better at loosening hard to remove grease and oils. Hot water is more effective in kill germs, mould and bacterial than cold water.
Hot water helps to save costs with improved cleaning efficiency by consuming lesser amounts of cleaning solutions.
Hot water pressure cleaners cost more and require better maintenance.
Common Hard Floor Cleaning Equipment Used by Adelaide Fibredry in St Peters
Here are some of the common hard floor cleaning equipment employed by Adelaide Fibredry for all commercial hard surface cleaning needs.
Automatic Floor Scrubbers
Automatic floor scrubbers, also known as floor scrubbers, help eliminate the need for a traditional mop and bucket for your cleaning needs. Floor scrubbers come with a powerful motor, an automatic cleaning solution dispenser and a powerful vacuuming system. Floor scrubbers can clean concrete, vinyl, rubber, ceramic, terrazzo, marble, granite, and slate floors. They can clean floors with increased power, while being frugal while washing with water and cleaning solutions. They leave your hard surfaces drier and hygienic much faster.
Counter Rotating Brushes
Counter rotating brushes come with rotating brushes that rotate in counter clockwise direction. This equipment absorbs dirt without the need for a vacuum cleaner or a mop. They are very versatile dry cleaners and can be used on different surfaces like carpets, tile grout and concrete floors. These machines rotate so quickly, that they can dislodge dirt and grime effectively.
Floor Burnishers
A floor buffer helps strip and scrub hard floors to improve a floor's appearance. The machine has a powerful motor and a round pad driver attached to a handle. A floor pad is used to scrub the hard surface. They are moved from side to side as part of the scrubbing and stripping process. Buffers operate at around 175 revolutions per minute to a cleaned scrubbed appearance to a hard surface.
Floor Buffers
Burnishers are similar to buffers but can spin between 1500 to 2500 revolutions per minute. A burnisher is used to give hard floors the desirable shine. The operator can move the burnisher either forward or backward but not side to side like a buffer. A faster rotating burnisher leaves hard surfaces with a well polished sheen.
Industrial Sweepers
Industrial sweepers are used extensively to clean commercial spaces ranging from 100 m2 to 30,000 m2. We have the right equipment for every industrial cleaning need. Some of them include:
Pedestrian sweepers are also called walk behind sweepers. They are fitted with a drive motor and a sweeper brush. It comes in handy to clean narrow spaces and is used for surface areas of upto 5000 m2 . They are ideal for cleaning residential driveways and pavers.
Ride on floor sweepers are larger sweeping machines fitted with a powerful motor and come with a seat for the operator. They can cover a larger sweeping path and can operate at higher speeds, besides having a big dirt container. They are used for larger areas greater than 5000 m2 .
Affordable Pressure Cleaning & Hard Surface Cleaning Services in Adelaide, St Peters, SA
Adelaide Fibredry has equipped its hard surface/high pressure cleaners with the best training and the latest cleaning equipment to service the most soiled and dirty surfaces. Our cleaners are trained to be professional & polite in their communication with you. They will be at your service, on short notice, to give the hard surfaces the attention it needs.
Are you in need of quality high pressure/hard surface cleaning services? Please give us a call on 0411 557 501 or email us at afibrdry@iprimus.com.au if you are in Adelaide. For getting in touch with us in Eyre you can call on 0407 531 262 or email us at info@eyrefibredry.com.au to get immediate assistance. Besides, you can fill out our contact form on our website to get your entire high pressure & hard surface cleaning service needs addressed immediately.